Agricultural Telehandlers and Wheel Loader Revolutionised
Wednesday, September 23, 2015

JCB Construction Equipment Australia (CEA) has added three new ground-breaking models to its already extensive range of agricultural telehandler and wheel loader machines.
The JCB 560-80 Agricultural Plus Loadall, 435S Agricultural Wheel Loading Shovel and 536-70S T4i LP low-profile Telehandler are the latest additions to the suite of resilient, productive models.
Greg Sealey, JCB CEA National Product Manager, says the feedback has already been outstanding.
"We're hearing nothing but rave reviews from our dealers and customers about these machines. Each of these new models has a series of unique features that increase efficiency and productivity while reducing service intervals, saving you time and money. These models are performing so well, farmers are sitting up and taking notice," Greg said.
Agricultural Telehandlers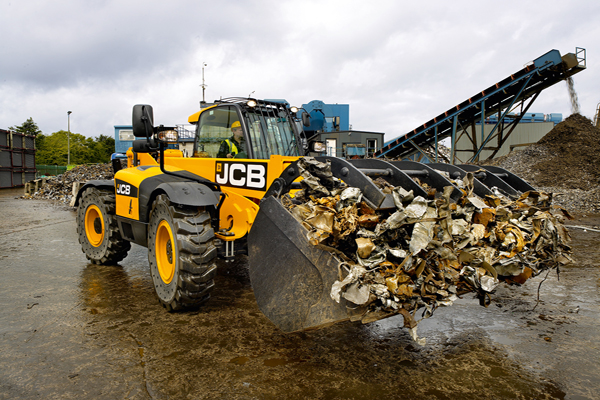 AGRI Plus Loadall
JCB pioneered the agricultural telehandler in 1977. Since then every model has been more efficient, more powerful and more manoeuvrable than the model before. The 560-80 Agriculture Telehandler is no different.
"We understand that time is money on the farm. So we've designed a class leading telehandler that improves efficiency across every aspect," Greg said.
"We've introduced many innovative and practical new features to our agriculture telehandler range to tackle the challenging farming environment. This 560-80 Agricultural Telehandler is JCB's highest capacity AGRI Loadall, with a maximum lift capacity of 6 tonnes for superb bulk re-handling.
New added features to the Agricultural Telehandler 560-80
The 560-80 AGRI Plus also features JCB's brand-new Auto Smoothride System (SRS), which improves load retention on uneven fields and operator control, and engages as soon as the machine moves faster than 4km/h.
"The SRS activates through a combination of a dry nitrogen and oil filled accumulator installed in line with the loader lift cylinders. When activated, the SRS allows the loader arm to float, counteracting variations in road or site surfaces and providing a smooth ride for the operator and maximising load retention."
To find out all about our range of telehandlers click here.
536-70S T4i LP Low Profile telehandler
"From the ongoing engagement we have with our agri customers, we've seen an increase in demand for low-profile agricultural telehandler that also boast high capacity. The 536-70S T4i features all of the updates from the agricultural telehandler range, but in a lower profile cab, which is perfect for poultry and livestock farms.
Improved efficiency by reducing fuel consumption
The introduction of regenerative hydraulic system on lower and retract functions has allowed improvement in efficiency by reducing fuel consumption and productivity through faster cycle times.
"The hydraulic system allows for increased efficiency through reduced fuel consumption and controllability through better metering and reduced pressure when required to lower and retract.
"We are seeing productivity increased by over 19% with the 536-70S T4i, most notably the boom is lowering at low idle in over half the time than the previous non-generative machines," Greg says.
The 560-80 AGRI Plus, 435S and the 536-70S T4i are all fitted as a standard with JCB's patented technology software, Livelink, which offers increased fleet monitoring capabilities. The software delivers real-time information on fleet management, maintenance, run hours, and security straight to a computer, tablet or mobile.
"LiveLink allows operators to work smarter and safer. It gives operators peace of mind that their machines are well maintained and in good condition without the need to travel around worksites conducting machine inspections, providing operators with all the information they need straight at their fingertips," Greg says.
JCB has been manufacturing agricultural equipment for more than 70 years and they have brought every year of experience and know-how to the fore when creating these unique and powerful offerings to the agri market.
As with all JCB's, the 560-80 AGRI Plus Loadall, 435S Wheel Loading Shovel and 536-70S T4i LP low-profile agricultural telehandler are supported by JCB's world-class customer support network.
To find out more about the new range of on-farm JCBs, talk to your local JCB CEA dealer.
Agricultural Wheel Loaders
The JCB 435S Wheel Loading Shovel
The new JCB 435S Agricultural Wheel Loader is cleaner, quieter and more efficient than other models on the market. It's massive power to weight ratio, enhanced traction, fast travel speed and efficient design makes for a superior performing machine far surpassing its previous model.
The 435S is built with a 6.7-litre Cummins QSB six-cylinder engine, producing a huge 230 horsepower, with a peak engine torque of 945Nm at only 1500rpm for excellent response. The engine is also Tier4i / Stage 3b emissions compliant, and offers a 6-speed transmission with torque convertor lock-up in every gear.
"The torque convertor lock provides closer gear ratios for better acceleration, hill climbing and road performance, reaching a top road speed of 48kph. This coupled with a high performance twin hydraulic pumps gives fast and efficient attachment and machine operation," Greg says.
Photo caption: JCB CEA have added three new agricultural machines to their already vast fleet, bringing improved productivity, fuel efficiency and operator comfort.
For more information or to request a demo or quote, please contact your local dealer.